Kirsten Dunst and Kiefer Sutherland in Melancholia: movie review
Lars Von Trier's 'Melancholia' is aptly named in this end-of-world story with Kirsten Dunst in a strong, hard-bitten performance.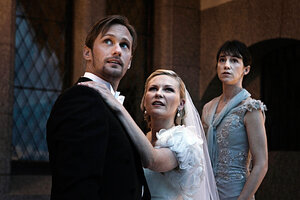 Christian Geisnaes/Magnolia Pictures/AP
The opening shots of Lars Von Trier's "Melancholia" are astoundingly beautiful and unsettling. Lasting perhaps eight minutes, and backed by Wagner's "Tristan and Isolde," we see a sequence of seemingly disparate images – friezes, really – of a woman (Kirsten Dunst) in a nighttime forest in her wedding dress, or floating in a pond, or with her fingertips sparking flames of electricity. Also there are images of planets colliding in langorous slow motion.
This sort of thing was attempted, to lesser effect, in "Tree of Life" by Terence Malick, another filmmaker for whom film at its purest is closest to abstraction. The problem with Von Trier, as with Malick, is when they attempt to work their abstractions into conventional narrative schemes. "Melancholia" would have been better off if it had ended with its prologue. Excepting occasional passages of heightened sci-fi creepiness, what follows is fairly typical doom-and-gloom Von Trier angst passing itself off as a universal condition. 
Dunst's Justine is about to be married at the palatial estate of her brother-in-law (Kiefer Sutherland) and sister (Charlotte Gainsbourg). The ensuing nuptials-from-hell scenario resembles "Rachel Getting Married" with a bad case of avant garde-itis. All the while we are told that a planet named Melancholia – how cute is that? – is on a collision course with Earth. Everyone but Justine believes disaster can be averted. She, of course, is right. Her funk is apparently oracular. 
Dunst gives a strong, hard-bitten performance even though she is playing an attitude rather than a character. Much of Justine's upsets are recorded in Von Trier's shaky-cam style – seasick realism. The grand planet-busting finale, though, is a beauty. Grade: B- (Rated R for some graphic nudity, sexual content and language.)
---