George Clooney stars in 'The Descendants': movie review
George Clooney's nuanced performance carries 'The Descendants,' an alternatively funny and tragic family drama.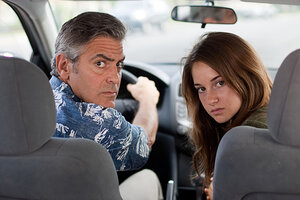 Merie Wallace/Fox Searchlight Films/AP
Alexander Payne's "The Descendants" doesn't move like other movies. Set in Hawaii, it has a languorous ease, but it also has its antic, oddball rhythms and, at times, a brief, breathtaking romanticism. It's a jumble that works.
George Clooney plays Matt King, a successful Oahu real estate lawyer whose wife, Elizabeth (Patricia Hastie), has been left comatose by a speedboat accident. Their two daughters, pesky 10-year-old Scottie (Amara Miller) and prickly 17-year-old Alex (Shailene Woodley), have never been especially close to Matt, who, in a voice-over, tells us, "I'm the backup parent. The understudy."
It soon becomes clear to Matt that Elizabeth's coma is irreversible and her remaining time, once the plug is pulled, will be short. How he deals with his daughters in this tragic situation is the heart of the film, and yet – and this is the film's true originality – it never descends into pathos. Payne, who based his movie on the acclaimed 2007 novel by Kaui Hart Hemmings and shares a screenplay credit with Nat Faxon and Jim Rash, understands how tragedy often plays itself out as a flurry of warring emotions. The grief in this film is often goofy, almost knockabout. Matt and his daughters and many others in the movie's widening human circle are caught up in a whirlwind of kindness and rue and redemption.
---