Another Happy Day: movie review
Dislikable characters mean 'Another Happy Day' just gets more aggravating as it goes on.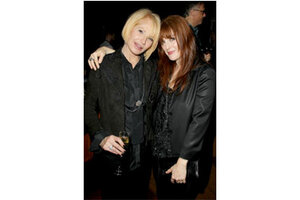 Amanda Schwab/FRE/Starpix/AP
Dislikable movie characters don't always result in dislikable movies but that's certainly the case with Sam Levinson's "Another Happy Day," a dysfunctional family meltdown movie about an impending wedding that only grows more aggravating as it unwinds.
Ellen Barkin plays a dysfunctional mother with three dysfunctional children, one of whom, played by Ezra Miller, is a scabrous dope fiend, another, played by Kate Bosworth, who cuts herself with razors. Add to this the mother's dysfunctional ex-husband (Thomas Haden Church) and his dysfunctional new wife (Demi Moore), plus assorted dysfunctional outliers, and you have quite a crew. The family patriarch (George Kennedy) isn't dysfunctional exactly, but his pacemaker is, so that sort of counts. The only vaguely sane person in the movie is the family matriarch, played by Ellen Burstyn, who, perhaps not entirely coincidentally, gives the film's only notable performance. Grade: D+ (Rated R for teen drug/alcohol abuse, pervasive language including sexual references, and brief graphic nudity.)
---
Follow Stories Like This
Get the Monitor stories you care about delivered to your inbox.