Martin Scorsese's 3-D 'Hugo': movie review
Martin Scorsese dives into a child's fantasy in 'Hugo,' the story of an orphaned boy with a dream in 1930s France.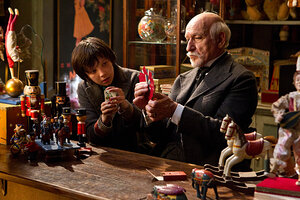 Jaap Buitendijk/Paramount Pictures/AP
Martin Scorsese's 3-D "Hugo" is, at least on the surface, an improbable choice for the director best known for films like "Taxi Driver" and "Raging Bull." Based on Brian Selznick's acclaimed and richly illustrated children's book "The Invention of Hugo Cabret," with a screenplay by John Logan, it tells the story of the eponymous young orphan (Asa Butterfield) in 1930s France who maintains, in secret, the clocks at a major train station in Paris.
With the death of his father (Jude Law, seen in flashbacks) and his alcoholic uncle (Ray Winstone), 12-year-old Hugo struggles to survive poverty and hunger while steering clear of the martinet inspector (Sacha Baron Cohen) who prowls the station and wants to put the boy in an orphanage. He also labors to fix a life-size automaton that, once repaired, might transmit a message from his father.
---