My Week With Marilyn: movie review
Michelle Williams captures Marilyn Monroe's fragility and guile, but not her aura – a tall order – in 'My Week With Marilyn.'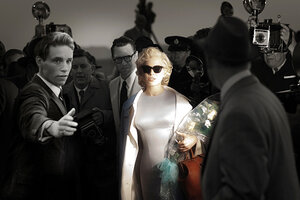 Laurence Cendrowicz/The Weinstein Company/Reuters
"My Week With Marilyn" presents Michelle Williams with a foredoomed challenge: Make us believe she really is Marilyn Monroe. Very few performances based on movie icons have been anything more than paper-thin impersonations – one big exception: Judy Davis as Judy Garland – so by this reckoning Williams does rather well. She captures not only Monroe's fragility but also the guile and gumption beneath it. What she can't capture, of course, is Monroe's aura, and without it, the performance comes across as something more than mimicry but less than incandescence.
Directed by Simon Curtis and written by Adrian Hodges, the film is based on a series of memoirs by Colin Clark, an upper-class Englishman who, straight out of college, served as a third assistant director in 1957 on "The Prince and the Showgirl," which costarred Monroe with its director, Laurence Olivier (played in the film by Kenneth Branagh).
---
Follow Stories Like This
Get the Monitor stories you care about delivered to your inbox.