The Artist: movie review
A clever throwback, 'The Artist' captures the swashbuckling antics of silent movie heroes.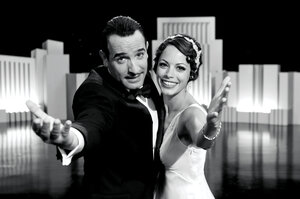 The Weinstein Company/AP
A s someone who bemoans the marginalization among moviegoing audiences of our great silent-film heritage, I wish "The Artist," a new black-and-white French film that is almost completely silent, nothing but the best. At least in theory I do. I hope it encourages people to go back and revisit, or in many cases visit for the first time, the glorious wealth of silent cinema available on DVD. But, as adept as "The Artist" is at recapturing the feeling of the early Hollywood silents, it's essentially a faux silent film – a stunt.
Pencil-moustachioed matinee idol George Valentin (Jean Dujardin), hale and limber, is in the swashbuckling Douglas Fairbanks mold, with a bit of Rudolph Valentino and John Gilbert thrown in. We first see him in 1927 emoting in an action-adventure movie-within-a-movie. Then the houselights inside the movie palace playing the film come up and we move outside to the red-carpet première, where aspiring actress Peppy Miller (Bérénice Bejo) captures his eye and, eventually, a small part in his next film. She also captures his heart, although he remains tethered to his exasperated wife (Penelope Ann Miller).
Peppy is equally smitten with George, but writer-director Michel Hazanavicius is careful to portray her in virginal tones. Her love for George, though she might have hoped otherwise, is platonic. As her star rises, his falls. Unable to cope with sound films, George sinks his own money into an expensive silent flop, then gets finished off by the Depression. He ruefully dismisses his faithful chauffeur (James Cromwell). Forced to auction off his personal effects after his wife leaves him, he takes up residence in a dingy apartment with only his adoring Jack Russell terrier and the prints of his films to keep him company.
---