A superstar cast stars in 'New Year's Eve': movie review (VIDEO)
Set in New York City, 'New Year's Eve' has a superstar cast but a shopworn string of interlocking stories.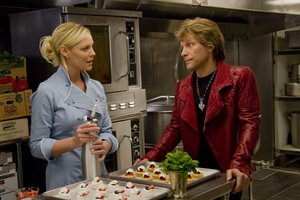 Andrew Schwartz/Warner Bros. Pictures/AP
Garry Marshall's previous all-star theme movie, "Valentine's Day," didn't exactly become a holiday perennial. Undaunted, he's back with "New Year's Eve."
The cast, at least on paper, is formidable, if ill-used. Robert De Niro plays a tubed-up cancer patient, Halle Berry plays his nurse, Michelle Pfeiffer is a lovelorn, mousy office worker. Also turning up are Jessica Biel, Katherine Heigl, Ashton Kutcher, Seth Meyers, Sarah Jessica Parker, Abigail Breslin, Jon Bon Jovi, Hilary Swank, and many others.
Katherine Fugate, who also wrote "Valentine's Day," sets a score of interlocking scenarios in motion, all of them shopworn. The film is like one of those Robert Altman big-canvas movies minus the inspiration.
It does have my favorite blatant product plug, though. Featured prominently in the wide-angle shots of Times Square is a huge billboard for the new "Sherlock Holmes" movie – like "New Year's Eve," a Warner Brothers production. Grade: C- (Rated PG-13 for language, including some sexual references.)
---
Follow Stories Like This
Get the Monitor stories you care about delivered to your inbox.