Tinker Tailor Soldier Spy: movie review
Le Carré's brilliant spy novel 'Tinker, Tailor, Soldier, Spy' is reimagined for the big screen.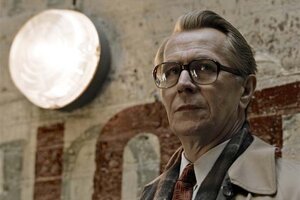 Jack English/HONS/Focus Features/AP
If you only know John le Carré's 1974 novel "Tinker Tailor Soldier Spy" from its 1979 seven-part BBC miniseries starring Alec Guinness as spy hero George Smiley, the new movie version might at first seem like an affront. For one thing, although mostly faithful to the book, it necessarily compresses the action into a relatively mere 127 minutes, thus making an already complicated narrative even more difficult to decode.
I was familiar with the book and miniseries, I knew whodunit, and still I found myself puzzling through the movie minute by minute. I'm still not sure I have it all straight. This is, after all, a world where single agents morph into double and triple agents in the blink of a jaundiced eye. But this is also a world where confusion is essential to the scenario. Being in the dark for much of the movie is not so much a criticism of it as a simple statement of fact.
This time around, Smiley is played by Gary Oldman, an actor about as far removed from Guinness's low-key charisma as can be imagined. Oldman is known for feasting on the scenery, but, in a preemptive strike, he goes way in the other direction here. He seems famished. It's a beautifully modulated performance of a man whose presence, at times, seems on the verge of vanishing – not a bad attribute for a spy.
---