Robert Downey Jr. returns in 'Sherlock Holmes: A Game of Shadows': movie review
Robert Downey Jr. recaps his leading role in 'Sherlock Holmes: A Game of Shadows,' the franchises second installment.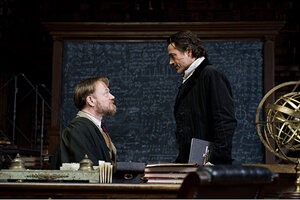 Daniel Smith/Warner Bros. Pictures/AP
Watching Robert Downey Jr. recap his leading role in "Sherlock Holmes: A Game of Shadows," I had a sinking feeling. One of our finest actors is lucratively entombed in not one but two blockbuster franchises, the other being "Iron Man." Neither does much to show off his immense gifts.
I'm not a fan of this franchise, now in its second installment and counting. Turning Holmes into a mixed martial artist with a penchant for dressing up in drag is carrying revisionism too far. Why even bother to call Downey's character Sherlock Holmes at all? Probably the vast audience for these films has never read a "Sherlock Holmes" story anyway. If anything, "Game of Shadows," even more so than 2009's "Sherlock Holmes," resembles nothing so much as a Victorian spinoff of "The Wild Wild West" TV series (which franchise producer Joel Silver turned into a dreadful 1999 feature film).
The "Sherlock Holmes" stories were a celebration of the powers of deduction. I guess that sort of thing is just too old-school now? The story line for "Game of Shadows" has something to do with a plot for world domination by Holmes's nemesis Professor Moriarty (Jared Harris), who comes across as a boring Bond villain. (Holmes and Moriarty even get to square off on the chessboard.)
What this film really celebrates is crunch-and-thud video-game-style action, not especially well choreographed by director Guy Ritchie. Noomi Rapace, so striking in the Swedish "The Girl With the Dragon Tattoo" films, makes her English-language debut in a disposable turn as a hot-blooded gypsy. Jude Law is back as Dr. Watson, who, deliberately I think, seems to be Holmes's true love interest here. They make for quite the couple on the dance floor. Grade: C- (Rated PG-13 for intense sequences of violence and action, and some drug material.)
---
Follow Stories Like This
Get the Monitor stories you care about delivered to your inbox.