Tom Cruise reprises his role in 'Mission Impossible: Ghost Protocol': movie review
Tom Cruise's Ethan Hunt and his team go rogue in the latest 'Mission Impossible' escapade, 'Ghost Protocol,' one of the best in the series.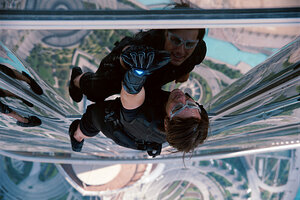 Paramount Pictures/AP
"Mission Impossible: Ghost Protocol," the latest installment in the 16-year-old series, is one of the best. It marks the live-action debut of director Brad Bird, the highly imaginative mind behind those animated marvels "Iron Giant," "The Incredibles," and "Ratatouille." He makes the transition smoothly, perhaps because so many of the highflying stunts in this film are essentially out of "The Incredibles" playbook. The movie, although it will be available in standard formats, is best enjoyed in IMAX, where the big death-defying hijinx and the panoramas of places like Dubai, United Arab Emirates, are literally eye-popping.
---