Two couples spring into chaos in 'Carnage': movie review
Adapted from an award-winning play, 'Carnage' takes two couples, poles apart, and let's them at it.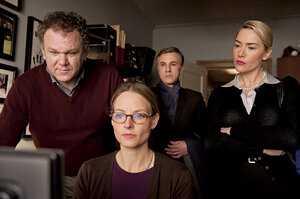 Sony Pictures Classics
Roman Polanski's "Carnage," based on the Tony Award-winning play "God of Carnage," by Yasmina Reza, is 79 minutes of yowling, haggling, bloviating, bellowing – even retching. It's like a "Seinfeld" episode of "Who's Afraid of Virginia Woolf?" How much you like the movie will largely depend on how badly you want to be cooped up in a Brooklyn apartment with four discontented jabberers. Amusing as some of this is, after a while I wanted out.
It begins with a long shot of a playground in Brooklyn Bridge Park. Two 11-year-old boys are tussling when one, Zachary, strikes the other, Ethan, with a stick. The scene then shifts to the apartment where Zachary's parents, Alan and Nancy Cowan (Christoph Waltz and Kate Winslet), have dropped in on Ethan's parents, Penelope and Michael Longstreet (Jodie Foster and John C. Reilly). Discussion of the incident between the boys – two of Ethan's teeth were knocked out – is polite enough at first, with cobbler and coffee on offer, but the decorum soon shatters.
---