War Horse: movie review
In 'War Horse,' Steven Spielberg brings his trademark storytelling to this somewhat sentimental tale of a boy and a horse he loves and loses.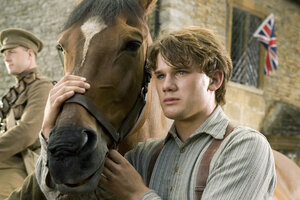 Andrew Cooper/Disney/AP
"War Horse" is a movie that perhaps only Steven Spielberg could have made. This is both good and not so good. On the plus side, the film has many of his trademark virtues – a resonant feeling for loneliness and emotional connection, stirring action sequences, vaunted storytelling. The not so good stuff, the dewy sentimentality and picture-book imagery especially, is generic Spielberg. The generic ultimately wins out.
Originally a bestselling 1987 novel by Michael Morpurgo, "War Horse" was dramatized for the London stage by Nick Stafford in 2007 and later won a Tony on Broadway. In all of its incarnations, the heart of this material – a boy's love for his horse – is almost as old as the movies. Set in England just before the outbreak of World War I, the narrative centers on Albert Narracott (Jeremy Irvine), a teenager living with his family in the English countryside who bonds with the beautiful bay thoroughbred he names Joey.
---