John Mellencamp: It's About You: movie review
'John Mellencamp: It's About You' captures the rocker on summer tour in the South along with the poetic melancholy of rural America.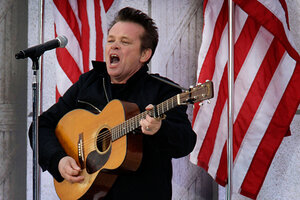 Jeff Christensen/AP/File
In 2009 John Mellencamp suggested to his friend Kurt Markus, the well-known photographer of Western landscapes, that he make a documentary of the Indiana-born rocker's summer tour and the recording of his new album "No Better Than This." Despite never having made a movie before, and utilizing comparatively primitive camera and recording equipment, Kurt and his son Ian crafted a movie unlike any other in the rock-doc genre.
"John Mellencamp: It's About You" follows Mellencamp as his tour stops in the First African Baptist Church in Savannah, Ga., (billed as America's oldest black church); in Littlefield, Texas, hometown of the late country star Waylon Jennings; and the Sun Studio in Memphis, with its posters of Elvis Presley and Jerry Lee Lewis and the rest gazing down upon Mellencamp and his musicians as they record their own songs. 
In San Antonio, they record in the famous Room 414 of the Gunter Hotel, where the legendary bluesman Robert Johnson made his first recordings in 1936. Throughout it all, Markus and his son capture the poetic melancholy of a mostly rural America with an eloquence that recalls the photographs of Robert Frank. Grade:Â A- (Unrated.)
---