"The Artist" leads the Golden Globes in nominations, but others not far behind
The Hollywood Foreign Press Asssociation's annual awards are considered strong predictors for Oscar glory.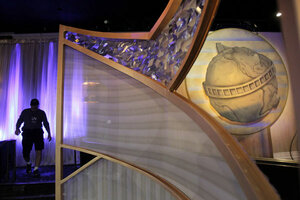 Jae C. Hong/AP
The Golden Globes have equally good comedy and drama masks this year.
Alongside heavyweight dramas, the category for best musical or comedy at the Globes usually is more of a lark, with nominees rarely emerging with best-picture prospects for Hollywood's top prize, the Academy Awards.
Yet Sunday's musical or comedy contenders make up a strong bunch that could give their best-drama cousins at the Globes a run for their money come Oscar time.
RELATED: Think you're a movie buff? Take our movie quiz!
Leading the Globes, to be televised live from the Beverly Hilton Hotel, is the silent film "The Artist," with six nominations. Among them are best musical or comedy, directing and writing honors for Michel Havanavicius, and acting slots for Jean Dujardin and Berenice Bejo.
Tied for second with five nominations each are the Deep South tale "The Help" and George Clooney's Hawaiian family story "The Descendants," both of them among best-drama contenders.
With the Oscars choosing up to 10 best-picture contenders when nominations come out Jan. 24, "The Artist" could have some other lighter fare as company there. Globe musical or comedy nominees "Midnight in Paris" and "Bridesmaids" have solid Oscar nomination prospects, along with the weighty dramas academy voters historically prefer.
---