Sundance 2012: Documentaries dominate
'Ethel,' about R.F.K.'s wife, and 'The Invisible War' leave a somber aftertaste.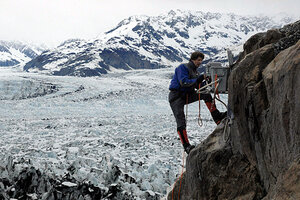 Tad Pfeffer/Extreme Ice Survey
Ethel Kennedy hates her first name. I would not have known this had I not seen the terrific documentary Ethel by her filmmaker daughter Rory Kennedy. A festival favorite, "Ethel" is one of several hundred features and shorts playing here at the annual snowbound Sundance festival centered in Park City, Utah, where journalists who spend their waking (and sometimes sleeping) hours in dark screening rooms are ringed by – taunted by – ski slopes reaching high into the sky.
Founded by Robert Redford in 1981, Sundance remains the premier showplace – and marketplace – for independent filmmakers. It is more inexpensive than ever to make movies; shoestring budgets are stringier than ever. At least one film at this festival, the horror anthology V/H/S, was apparently shot entirely on a laptop. Distribution systems are more wide-ranging, too. Theatrical release is no longer the only game in town: Now there's VOD (video on demand), streaming, and who knows what else.
And yet the emphasis here at Sundance this year is still on the theatrical event. Nothing can replace watching a movie on a big screen with a big audience.
When there is a film as powerful as The Invisible War, that sense of communality is almost essential to the experience. This year I focused my filmgoing predominantly on documentaries, always the high point of Sundance. This one, by Kirby Dick, exposes a subject – the high prevalence of rape in the military – that, amazingly, has never before been addressed in a movie. A succession of servicewomen and one serviceman recount their horrific stories as the statistics pile up: About 500,000 women have been sexually assaulted in the US military (and about 80 percent of assaults go unreported).
---