Kill List: movie review (+trailer)
British thriller 'Kill List' is not for the squeamish as the 'surprises' keep coming.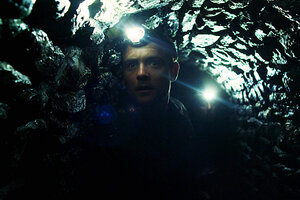 IFC Films/AP
Jay (Neil Maskell) and Shel (MyAnna Buring) are an average working/middle-class couple. As they chat with their dinner guests – Jay's former co-worker Gal (Michael Smiley) and his new girlfriend, Fiona (Emma Fryer) – conflicts begin to surface.
The economy is rotten – tell me something I didn't already know – and Jay has been out of work for eight months. Little squabbles and discomforts – Jay's irritation at Shel for serving the gravy in a Pyrex measuring cup, for instance – escalate until Jay throws a tantrum.
At this point, if you've managed to avoid trailers and reviews, you might be expecting a realistic family drama. And you would soon find out you were wrong when it's revealed that Jay's and Gal's "work" is killing for hire. Yes, the unemployment crisis affects even hitmen, who, to make things worse, don't have health insurance or retirement accounts.
Gal has lined up a three-hit assignment, which Jay reluctantly agrees to. Their creepy client (Struan Rodger) looks like a decaying, madhouse version of Joe Biden. (For that matter, if you can envision Ricky Gervais and Geoffrey Rush as killers, you've got a good picture of Jay and Gal.)
---