The Woman in Black: movie review (+trailer)
'The Woman in Black' star Daniel Radcliffe gives a convincing performance, but the storyline of the film becomes less clear as the movie progresses.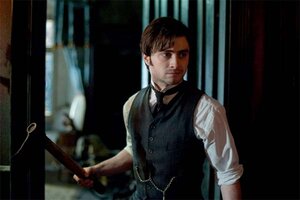 Nick Wall/HONS/CBS Films/AP
Having coproduced "Let Me In" (the 2010 English-language remake of Sweden's "Let the Right One In"), Hammer Films – the premier producer of British genre films in the 1960s and '70s – continues its slow crawl out of the grave with "The Woman in Black," based on Susan Hill's 1982 ghost novel.
The main commercial selling point here is the presence of Daniel Radcliffe in his first major screen role after a decade portraying a certain young wizard in a series of eight rather successful films. (Can we make it through this review without explicitly mentioning Harry P ... Oops. I guess not.) In a bizarre, if trivial coincidence, the story was previously adapted for TV in 1989, with Radcliffe's role filled by Adrian Rawlins, who portrayed his father in the "Harry Potter" films.
"The Woman in Black," an adaptation of a book and London's second-longest-running West End play by the same name, is a haunted house tale, with all the requisite shock cuts and spooky off-screen noises. But, for some of us, the scariest moment occurs within the first five minutes, when a 4-year-old (Misha Handley) addresses Radcliffe as "Daddy." I know that time flies, but this feels like Mach 2 and then some.
The film is set around the turn of the century – not the recent one but the Victorian/Edwardian one. Radcliffe plays Arthur Kipps – a winking reference to the H.G. Wells hero, maybe? – a young lawyer whose once-promising career has been sinking ever since his beloved wife died in childbirth. He has never recovered from his grief: The first thing we learn is that he's suicidal and only keeps going on for the sake of the above-mentioned 4-year-old.
---