In Darkness: movie review (+trailer)
The movie's power comes from its uncompromising take on the heroism of a Polish sewer inspector during the country's 1942 German occupation.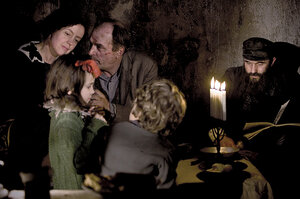 Sony Pictures Classics
Agnieszka Holland's powerful "In Darkness" is set in 1942 in ­the eastern Polish city of Lvov at a time when it was occupied by the Germans and their Ukrainian allies. The city's Christian inhabitants, battered and war-weary, are still far better off than the Jews, whom the Nazis randomly shoot in the streets and ghettoize en route to their eventual deportation to concentration camps.
Leopold Socha (Robert Wieckiewicz) is a Polish sewer inspector who also doubles as a scavenger. To provide for his wife and daughter, and also, we sense, because he likes the thrill of the hunt, he and his accomplice (Krzysztof Skonieczny) loot the abandoned buildings of Jews. Because of Socha's knowledge of the sewers, the local Ukrainian Nazi officer offers him an added financial incentive to root out the Jews hiding underground.
Unlike most Holocaust-themed movies, even some of the strongest (like "Schindler's List"), "In Darkness," which is based on true events and is Oscar-nominated for best foreign film, doesn't draw clear lines of demarcation between the righteous and the venal. Socha initially keeps several Jewish families hidden away, not because he is noble but because the Jews make him a better offer – a richer bribe. And the Jews crammed into the blackness and the stench are not sentimentalized. One man, for example, has abandoned his wife and daughter for his mistress, whom he likewise abandons when she becomes pregnant. With the exception of the group's leader, Mundek Margulies (Benno Fürmann), who is portrayed in classic stalwart-hero mold, none of the Jews are given the star treatment.
---