Where Are You Taking Me?: movie review
'Where Are You Taking Me?' is an observational documentary that lets the images tell the story.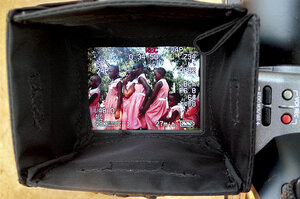 Courtesy of Lane Street Pictures
The marvelous documentary "Where Are You Taking Me?" was originally commissioned by Rotterdam's international film festival in conjunction with a series on African cinema. The Asian-American director, Kimi Takesue, who has an extensive career in documentaries and teaches film at Syracuse University, had never traveled to Africa. Along with 11 other international filmmakers, she and local African filmmakers were given no-strings commissions to make pieces for the festival. It sounds like a documentarian's dream, and from the look of the film, that's just what it was.
As Takesue has written: "I was particularly excited to participate in this project because my film work often deals with various kinds of cross-cultural encounters. I am interested in the process of 'looking' cross-culturally, and the interplay between the observer and the observed."
This may make the movie sound like some sort of ethnographic field trip, but it's far more lyrical than that. What the film is really about, as Takesue has said elsewhere, is "finding poetic moments in the everyday." The film has no driving agenda, no overbearing story arc.
Since the movie was shot in Uganda in the aftermath of its brutal civil wars, her approach, which dispenses with voice-over narration and even subtitles, may at first seem unconscionably arty. But I think she is right to work in this way. The film doesn't dispense with the horrors of the wars, it just mitigates the pain by finding in the people, the countryside, a revivifying beauty. The movie is both a representation of and a testament to healing.
---