Footnote: movie review
'Footnote' is at its best when it gets into the cutthroat dynamics of academic competition, but the differences of the father and son characters are a bit too neat.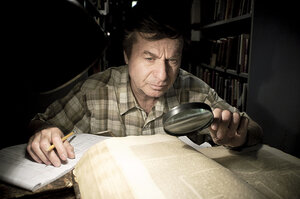 Sony Pictures Classics
Infighting in academia is no less vicious or petty than corporate infighting, perhaps because, as the cliché goes, the stakes are so low. "Footnote," the Israeli film that was a best foreign film Oscar nominee this year, gets inside the viciousness and the pettiness by casting its story as, ultimately, a conflict between father and son.
Standoffish professor Eliezer Shkolnik (Shlomo Bar-Aba) is a Talmudic scholar who has devoted his life to the original ancient writings in order to preserve their accuracy. His career has been largely spent in pursuit of arcana, and he has been marginalized by academia. His bearded, blustery son Uriel (Lior Ashkenazi) is a widely published and much-honored Talmudic scholar. Instead of being cheered by his son's success, Eliezer is resentful. To him, Uriel represents everything about academia – the careerism, the opportunism – that he has always disdained.
The story hinges on the announcement that the Israel Prize, the highest honor for scholarship, will be going to the stunned Eliezer, who must now reassess his attitudes about – well, just about everything. As Uriel remarks, his father "will have to reboot his whole personality."
---