The Hunger Games: movie review
'The Hunger Games' has echoes of some great films of its type: the reality-show forerunners.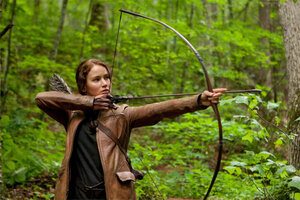 Murray Close/HONS/Lionsgate/AP
The film adaptation of the first of Suzanne Collins's three "Hunger Games" novels arrives with the most sure-shot appeal of any nonsequel since "Twilight" (2008). Both target the same demographic: ages, roughly 10 to 18; gender, female; social media choice, all of them.
Unless the movie disappoints them – and it won't – they'll spread the good word via Twitter and Facebook and Tumblr and Pinterest or whatever it is that, unbeknownst to an older demographic, may have already supplanted them.
"The Hunger Games" takes place in a postapocalyptic America. All that remains of the United States is Panem, a 12-district federation headed by cagey President Snow (Donald Sutherland). Capitol, Panem's central city, is home to a wealthy, decadent elite, whose comforts and high-tech toys are supported by the labor of an impoverished majority. It's a social structure with echoes of "The Time Machine," "Metropolis," and John Boorman's whacked-out "Zardoz."
---