The new celluloid heroes
Preservationists springboard off audience enthusiasm for 'Hugo' and 'The Artist' to revive old-school films.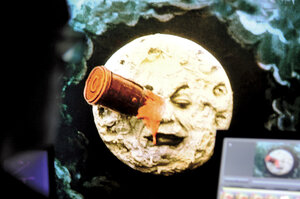 Gabriel Bouys/AFP/Getty Images
Amid the fanciful 3-D technology and the story of two children navigating the contrarian world of adults, Martin Scorsese's film "Hugo" pauses midway through and shows audiences why preserving early cinema is a cultural necessity.
The film's real subject, of course, is the French film auteur Georges Méliès, whose body of work – 531 films – largely perished in his lifetime, creating personal agony and professional irrelevance until a retrospective nine years before his death allowed him the wider recognition his work deserved.
His is an allegory familiar to many involved in film preservation today. "Hugo" and the recent Oscar topper "The Artist" both pay homage to the artistic beauty of early cinema, but they arrive at a precarious time for film as a medium. Digital cinema is forcing exhibitors and studios to upgrade celluloid film systems with new technology designed to offer audiences better screen resolution, contrast, and opportunities for 4-D immersion experiences – and to save studios $1 billion in printmaking fees and shipping costs annually.
The transition is considered the definitive end for celluloid, a format considered the foundation of the film industry for 100 years. As fewer theaters are equipped to show traditional film, there become fewer opportunities to view films of the past, a fact that worries film preservationists who are rushing not only to save old films from deteriorating, but also to find films that have been lost. Their absence has diminished our cultural memory.
"I find it ironic that the interest in film preservation has grown exponentially precisely at the time when film as a medium is about to be replaced by digital technology. In other words, cinema is being taken seriously now that it's almost dead," says Paolo Cherchi Usai, senior curator at the George Eastman House, a film archive and school of film preservation in Rochester, N.Y.
---