Intruders: movie review
The dual plots in the maybe-supernatural film 'Intruders' add up to a surprising reveal.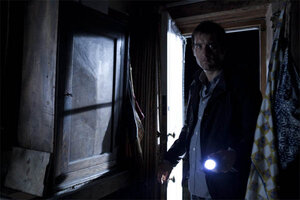 Courtesy of Millennium Entertainment
In "Intruders," a (maybe) supernatural thriller from director Juan Carlos Fresnadillo ("Intacto," "28 Weeks Later"), Mia, a 12-year-old English girl (Ella Purnell), finds the faded manuscript of a horror story in a hole way up a tree. The story is about Hollowface, a faceless nocturnal predator, who yearns to steal a child's face as his own.
Mia plagiarizes the tale for school, reading it aloud to her enthralled class. There are two reasons this turns out to be a terrible idea. First, as Mia knows, the story stops abruptly, as though unfinished, and now her teacher wants her to write the rest. Secondly, as Mia unfortunately doesn't know, the act of speaking Hollowface's name is enough to summon him from ... wherever.
Soon, she begins to sense that there is someone in her bedroom, hiding within the shadows in her closet; and, before long, he materializes threateningly in the room. Luckily, her father, John (Clive Owen), rushes in and fights the intruder, who escapes out the window.
John is a construction worker, brave enough to spend all day way up in the skeleton of a skyscraper, so, predictably, he doesn't want to wait around for the police to find the man.
But Mia isn't Hollowface's only victim. In a rundown apartment in Spain, a little boy (Izán Corchero) is being similarly terrorized. His mother (Pilar López de Ayala) consults her priest (Daniel Brühl), who tries to arrange something like an exorcism.
---