Darling Companion: movie review
A rambling shaggy-dog story, 'Darling Companion' lives up to its canine credentials.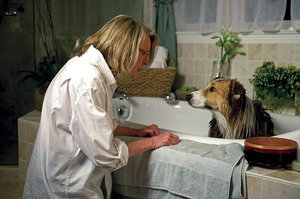 Sony Pictures Classics
"Darling Companion" is about how a dog brings a family together. Now before you go "Awwww," you might be happy (or unhappy) to know that the film is not a tear-jerker – at least not most of the time. It is, if I may be forgiven the obvious allusion, a shaggy-dog story about a shaggy family.
This is the first film in seven years from director Lawrence Kasdan, who co-wrote it with his wife, Meg. They last collaborated in 1991 on "Grand Canyon," another multicharacter ramble, although that one, about the depredations of life in Los Angeles, had a lot more on its mind than "Darling Companion." It was also a lot gloomier and less fun. I make no great case for their latest collaboration, which runs off the track as often as it stays on it, but it showcases terrific actors who seem to enjoy each other's company. Maybe it's just that I like movies that ramble, at least I do when the ramblers are worth watching.
Kevin Kline plays Joseph Winter, a self-regarding surgeon with an ego as big as all outdoors. (And there's a lot of outdoors in this movie, which is mostly set in Colorado against the background of the Rocky Mountains.) His wife, Beth, played by Diane Keaton, isn't unhappy, exactly, but she spends more of her time tolerating her husband than cozying up to him. When Beth and their daughter Grace (Elisabeth Moss) rescue a sick mutt found cowering beside a freeway, they adopt him, much to the patriarch's displeasure. The mutt, of course, is named Freeway, and the vet who cares for him (Jay Ali) ends up marrying Grace.
---