The Best Exotic Marigold Hotel: movie review
The impressive cast in 'Marigold' keeps the movie from descending into sappiness more than it may have otherwise.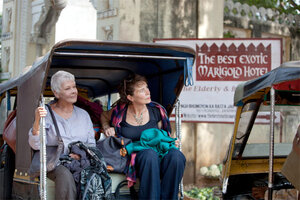 Ishika Mohan/Fox Searchlight Films/AP
In proud defiance of the prevailing anti-oldster trend in movies, we have "The Best Exotic Marigold Hotel," a film that features just about nothing but oldsters. Fortunately for everybody, they are played by a gift-pack assortment of world-class British actors, including Maggie Smith, Bill Nighy, Tom Wilkinson, and Judi Dench.
Without such a bang-up cast, "Marigold Hotel" might have descended far more often than it does into terminal sappiness. The material, based on Deborah Moggach's novel "These Foolish Things," is larded with life lessons one can see coming a mile away.
We are quickly introduced to our players. Meek Douglas (Nighy) and his snippy wife, Jean (Penelope Wilton), have lost their retirement savings in their daughter's failed Internet start-up. Old coot Norman (Ronald Pickup) is still trying to pass himself off as a 40-something on dating sites. Randy Madge (Celia Imrie) doesn't want to be a stay-at-home grandmother. Recently widowed Evelyn (Dench), faced with her late husband's catastrophic debts, doesn't want to move in with her sons.
---