Your Sister's Sister: movie review
'Your Sister's Sister' (mostly) works despite its too tidy conclusion.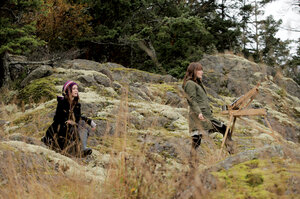 IFC Films
The independent movie genre known as mumblecore is pretty much what it sounds like – at its core is a lot of mumbling (and grumbling and whining and wailing) by self-infatuated slackers. This type of movie is a staple of film festivals like Sundance and Toronto, where, wouldn't you know, "Your Sister's Sister," this week's entry in the mumblecore sweepstakes, was lauded.
There is good mumblecore and not-so-good mumblecore. In the good variety, the mumbling is witty and expressive, and the mumblers worth listening to. In the bad variety, the experience is a bit like being forced to endure a college dorm bull session at 2 in the morning.
"Your Sister's Sister," the fourth feature from director Lynn Shelton, is more good than bad, at least until its too tidy conclusion. Since it's essentially a three-character movie, it's a good thing that the characters, and the actors who play them, can hold the screen.
Mark Duplass, the It Guy of indie, plays Jack, still mourning the death of his brother a year earlier. Jack accepts an invitation from his best friend, Iris (Emily Blunt), to convalesce at her family's island getaway off the coast of Washington State. Iris was, not so incidentally, his brother's ex-girlfriend.
---