The Invisible War: movie review
The issue of rape in the US military is explored in this essential documentary.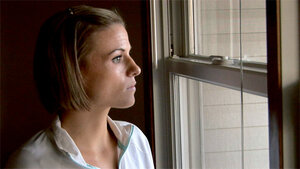 Courtesy of Cinedigm/Docurama Films
I have rarely been more righteously riled up than I was while watching the documentary "The Invisible War," winner of the audience award at the 2012 Sundance Film Festival. Amazingly, it's the first film to really explore the issue of rape in the US military. The fact that this subject has taken so long to achieve full-scale exposure is itself symptomatic of the problem.
Director Kirby Dick and his producing partner, Amy Ziering, expert muckrakers, first read about this sickening, endemic phenomenon in a 2007 Salon article, "The Private War of Women Soldiers," by Helen Benedict. In following up on their own research, the filmmakers contacted more than 150 women and ended up with a dozen subjects. They reported that the airing of the women's traumas, often for the first time in public, was validating – cathartic – for many of them.
A few facts: According to the Department of Defense, a female soldier is more likely to be raped by a fellow soldier than killed by enemy fire. In 2010 there were an estimated 19,000 violent sex crimes in the military. Of all active-duty female soldiers, 20 percent are sexually assaulted, with women between the ages of 18 and 21 making up more than half the victims. (One percent of men in the military, or about 20,000 men, were reportedly sexually assaulted in 2009. "The Invisible War" also features an interview with one such soldier.)
It is estimated that 80 percent of victims do not report the crimes against them, not surprising since fewer than 10 percent of assault cases are prosecuted. Often the victim, without the option of bringing her case to an outside criminal justice system, ends up being judged within the military by the perpetrators or allies of the perpetrators.
---