Unforgivable: movie review
'Unforgivable' gives complexity and tumult their due. "Unforgivable" is, in part, a free-floating meditation on the distresses and exhilarations of being a parent.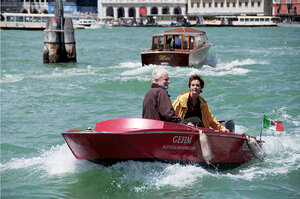 Strand Releasing
The wonderful French director André Téchiné makes movies about people whose lives are perpetually in flux – the more fluctuations the better. In the human comedy, Téchiné seems to be saying, to his delight, nothing stays the same.
There is something exasperating and yet marvelous about Téchiné's approach, and this dichotomy is no more apparent than in his latest film, "Unforgivable," which is about a best-selling crime novelist whose personal life is as messy as his books are carefully plotted.
Francis (André Dussollier) has decided he needs a quiet refuge in which to write his new novel, and he finds it in the lush island of Sant'Erasmo off the Venice coast.
His real estate agent, Judith (Carole Bouquet), is a pristinely beautiful ex-model about 20 years his junior. Aging roué that he is, Francis decides she must be a part of the deal as well – as his housemate. When the movie abruptly shifts to the following summer, the two are not only living together but married.
The irony here is that Francis is so content in his newfound situation that he finds himself unable to write. (Love as an impediment to creativity – how French.) But not to worry. He will soon find himself in a series of misery-making predicaments, none of which, however, do much to jump-start his novel.
Chief among these are his jealous suspicions over his wife and the disappearance of his troublesome daughter, Alice (Melanie Thierry), who arrives on the island with her young daughter and soon thereafter vanishes – most likely as a runaway with her impoverished aristocrat, heroin-dealing boyfriend (Andrea Pergolesi).
In case this isn't messy enough already, Francis hires a private detective, Anna Maria (Adriana Asti), who was once Judith's lover, to track down his daughter. And he pays Anna Maria's ex-con son Jérémie (Mauro Conte) to tail his wife and see if she is having an affair.
---