Maggie Gyllenhaal in 'Won't Back Down' takes on public schools
'Won't Back Down': a hot-button topic, but too many holes.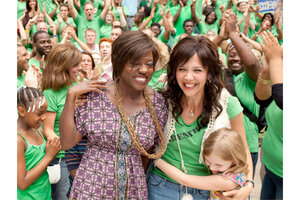 Kerry Hayes/20th Century Fox/AP
"Won't Back Down" is about two mothers who go up against a failing inner-city school in Pittsburgh, and it opens with the inevitable "inspired by a true story" preamble. This is supposed to give the movie the patina of being "more" than a movie, although it's not clear what "true story" it's actually "inspired" by. The film, directed and co-written by Daniel Barnz, is being positioned as an education-reform version of "Norma Rae," except here it's the unions that get tarred.
Maggie Gyllenhaal is Jamie Fitzpatrick, a rowdy single mother who works two jobs and is fed up with the way her dyslexic 8-year-old daughter, Malia (Emily Alyn Lind), is being educated. Malia's iPhone-toting instructor (Nancy Bach), who might as well be wearing a sign reading "Bad Teacher," explains to Jamie that union rules prevent her from helping Malia after class. Jamie's attempts to get her daughter transferred to the class of Good Teacher Nona Alberts (Viola Davis), whose own son is failing in school, are stonewalled by the smirky school principal (Bill Nunn).
---