'Sister': A terrific, sad movie about childhood lived on the edge
'Sister' looks inside the gumption and desperation of a 12-year old thief and his sister.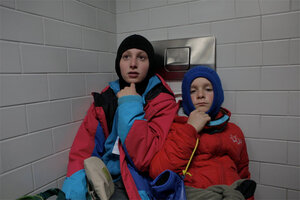 Courtesy of Adopt Films
Simon (Kacey Mottet Klein) is a 12-year-old Swiss boy who lives with his sister, Louise (Léa Seydoux), in a large, run-down housing complex in a valley situated beneath a sky-high ski resort catering to the wealthy. The contrast between the life he has and the life he would like to have could not be starker.
"Sister" ("L'enfant d'en haut "), directed and co-written by Ursula Meier, follows Simon's conniving, unnerving attempts to get ahead. Ferrety and quicksilver, he always has an eye to the main chance. It's one of the many excellences of this film that Meier doesn't sentimentalize this boy or convert him into some working-class antihero.
Simon's chief occupation – profession, really – is stealing from the rich skiers whose bags of unguarded equipment are ripe for the picking. Having secured a ski-lift pass, even though he doesn't ski, Simon rifles through the piles and helps himself to food, gloves, goggles, and skis, which he then sells in the valley as "clearance" items. (Few buyers believe him.) Louise, still in her 20s, perpetually walking out on jobs and men, contributes little to the arrangement. Simon supports them with his stealing, but one gets the feeling he would steal anyway – for the thrill and the sense of entitlement. When one of the seasonal workers at the resort (Martin Compston) catches him in a storage room and withholds the booty from the boy, Simon snaps back, "Give me my money for the skis." He justifies his thefts by saying that the resort-goers "are so rich they don't care and they'll just buy a new one."
Atop the aerie Simon feels momentarily moneyed. He pretends to be the son of wealthy parents and, for sport almost, insinuates himself into the lives of his prey. One mother (Gillian Anderson) and her young brood are sitting ducks, although Simon overplays his hand. He offers to pay for their meal, and, even when the offer is turned down, persists to the point of desperation. It's one of the few times in the film when Simon loses his cool, and he does so because he can't turn off the impersonation. He's locked into his fantasy.
---