Ken Burns co-directs the powerful documentary 'The Central Park Five'
The documentary goes inside the 'wilding' case that fanned racial tension.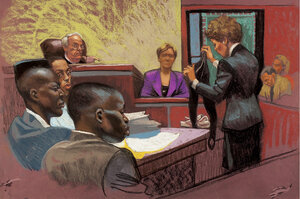 PBS
In the early morning hours of April 20, 1989, a 28-year-old white female jogger was found gagged and severely beaten in New York's Central Park. Identified for some time only as the "Central Park jogger," she lay comatose for several weeks but survived, retaining, mercifully, no memory of the attack.
The powerful documentary "The Central Park Five," directed by Ken Burns; his daughter Sarah Burns; and her husband, David McMahon, is about how the crime, which then-Mayor Ed Koch called "the crime of the century," was compounded by a rush to judgment against her supposed attackers – the five black and Latino youths, ages 14 to 16, who were coerced by the police into confessing to the assault.
Anton McCray, Kevin Richardson, Raymond Santana, Kharey Wise, and Yusef Salaam ended up serving their sentences, which ranged from seven to 13 years, for the attack before they were finally exonerated in 2002 when a jailhouse confession by a serial rapist and murderer, complete with corroborating DNA evidence, resulted in their convictions being overturned. Soon after, the Central Park Five filed a lawsuit against New York, the prosecutors, and the police who abetted their conviction. The suit is still pending, as the film reminds us in the end. None of the implicated prosecutors or members of the police agreed to be interviewed. The city, meanwhile, in its defense, has tried to subpoena outtakes from the film. And so the ordeal drags on.
The documentary brings to the fore the racially motivated fear that gripped crime-ridden New York in the late 1980s, when the economy was slumping and crack usage and AIDS were on the rise. It wasn't just the tabloids and the nightly news broadcasts that stirred the caldron; much of the liberal media also jumped into the fray, accepting the five boys' guilt despite the gaping holes in the case. (It's a flaw in the film that, besides not hearing from the prosecutors, we also don't have contemporary interviews with the likes of liberal columnists and former believers Pete Hamill and Bob Herbert, both of whom declined to be interviewed by the filmmakers.)
---