Star Wars VII: The force is strong in J.J. Abrams
Disney confirmed that J.J. Abrams, of 'Lost' and the new 'Star Trek' movies, will direct the newest 'Star Wars' movie, set to be released in 2015. Abrams will consult with one of the writers from the original trilogy.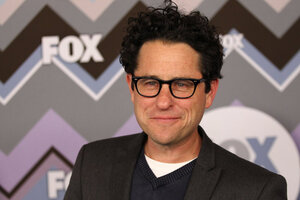 Matt Sayles/Invision/AP/File
It's official. The force is with J.J. Abrams.
The Walt Disney Co. issued a statement Friday night confirming reports that had been circulating for two days that Abrams, Emmy-award-winning creator of TV's "Lost" and director of 2009's "Star Trek" movie, has been pegged to direct the seventh installment of the "Star Wars" franchise.
"J.J. is the perfect director to helm this," said Kathleen Kennedy, the movie's producer and president of Lucasfilm, which was acquired by Disney last month for $4.06 billion.
"Beyond having such great instincts as a filmmaker, he has an intuitive understanding of this franchise. He understands the essence of the Star Wars experience," Kennedy said in the statement.
The movie will have a script from "Toy Story 3" writer Michael Arndt and a 2015 release.
Lawrence Kasdan, who wrote "The Empire Strikes Back" and "Return of the Jedi" in the original trilogy, will work as a consultant on the new project.
---