Dick Van Dyke is honored with lifetime achievement award at SAG ceremony
Van Dyke is best known for movies such as 'Mary Poppins' and 'Bye Bye Birdie' and his TV show 'The Dick Van Dyke Show.' Van Dyke called his TV show 'the most fun I ever had and the most creative period of my life.'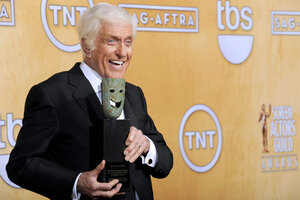 Chris Pizzello/Invision/AP
He's acted, danced and sang his way through movies, television and the stage, making Dick Van Dyke an entertainment triple-threat long before Hollywood used such hyphenates.
The 87-year-old actor, best known for the 1960s hit comedy "The Dick Van Dyke Show" and Disney's big-screen musical "Mary Poppins," can now add lifetime achievement honoree. He picked up that honor at Sunday night's 19th annual Screen Actors Guild Awards.
"I've knocked around in this business for 70 years and I still haven't quite figured out exactly what it is I do," Van Dyke said after accepting his trophy from presenter Alec Baldwin.
"The years have been full of surprises for me and a lot of fun. Aren't we lucky to have found a line of work that doesn't require growing up?"
Van Dyke's career has spanned eight decades, starting with work as a disc jockey and a standup comic in the late '40s. He even worked as a national television morning-show host, with no less than Walter Cronkite serving as his news anchor.
But perhaps Van Dyke's most critical career break came in 1960, when director Gower Champion hired him as the male lead opposite Chita Rivera in the new Broadway-bound stage musical "Bye Bye Birdie."
Van Dyke had no professional dance experience, and out-of-town tryouts did not go well. Nevertheless, Champion refused to fire the actor, who would go on to New York with Rivera and win a Tony award for his performance.
---