Robert De Niro puts his prints in cement at Hollywood's Chinese Theatre
De Niro put his hands and feet in cement at the Chinese Theatre, adding his prints to those of other legendary actors. Joe Pesci always said, joked De Niro, that his 'feet would end up in cement.'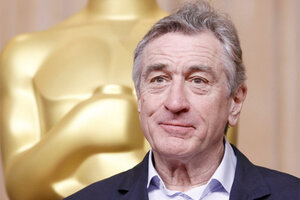 Mario Anzuoni/Reuters
Double Oscar winner Robert De Niro cemented his place in acting history on Monday by placing his hands and feet in concrete in front of Hollywood's historic Chinese Theatre.
De Niro, 69, gave a short thank you speech with a few punchlines of his own.
"(Actor) Joe Pesci always said I'd end up with my feet in cement. I don't think this is what he had in mind," said De Niro, referring to the many gangster movies he has filmed over his 40-year career.
"They say everyone in the film industry has three homes – the home where they live, the home where their first wife lives, and Hollywood. I love New York, and I'm proud to be a citizen of Hollywood. Thank you for this honor and thank you for making me feel at home here," he said.
De Niro, who founded the Tribeca Film Festival in 2002 in a bid to revive lower Manhattan after the Sept. 11, 2001, attacks, is in the running for a third Oscar this month for his supporting role in comedy "Silver Linings Playbook."
---