A (long) day at the cinema
Movie classics like 'Casablanca' and 'High Noon' were short and sweet, but modern audiences are more likely to sit through a three-hour running time.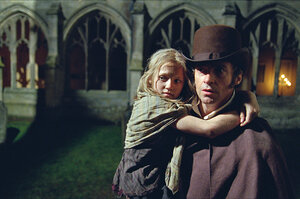 Universal Pictures/AP
For moviegoers wanting to catch up on this year's Oscar-nominated films, there's one thing you'll need besides a tub of buttered popcorn – time, and a lot of it.
Nearly half of the 2013 nominees for Best Picture close in on the three-hour mark. While the trend toward longer run times has been on the climb over recent decades, to today's smart-phone-driven, multitasking audiences, an outing to the movies is no longer just a pleasant pastime. It's a full-on commitment. Consider the lengths of these nominees: "Django Unchained" (2 hours and 45 minutes), "Les Misérables" (2:37), "Zero Dark Thirty" (2:37), and "Lincoln" (2:30).
Combine those run times with the obligatory 20 minutes of previews and you've suddenly spent half a day in the dark – and paid the baby sitter a fortune. Growing movie lengths are partly because of lengthy special effects credits. But are directors of these behemoths aiming to wow audiences, or please Academy judges?
"It's not that unusual for ... Oscar-bait films to be two-plus hours," says the Monitor's film critic, Peter Rainer. "Bigger is better, at least from an awards voter point of view." But lots of other films this year were very long, including "The Master" (2:24) and "This is 40" (2:14).
Compare these run times with those of films from the era of double features, such as "Casablanca" (1:42) and "High Noon" (1:25). Can you imagine a double feature in today's theaters? You'd need to bring a sleeping bag.
---