Oscars 2013: Where have child actors gone post-nom?
In the aftermath of Oscars 2013, which featured the youngest-ever nominee for Best Actress, here's a look at what other under-18 nominees have gone on to do.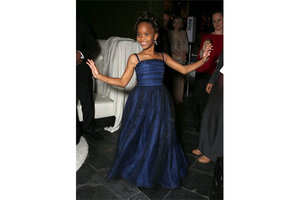 Todd Williamson/Invision/AP
Quvenzhane Wallis's appearance at the Oscars made us wonder about other Oscar-nominated youngsters. What happens after the lights fade to black?
Contrary to popular belief, not all of the child actors' stars in Hollywood fade after their meteoric rise into the limelight – sometimes they continue in films. Of course, the old aphorism "The light that burns twice as bright burns half as long" can remain true. (Actually, that's from "Blade Runner.")
The kids that go to the Oscars are almost always nominated in the Best Supporting Actor or Best Supporting Actress categories. There have been more girls nominated for Oscars than boys, and no boy (defined as under eighteen) has ever won an Oscar. While we're not counting her in the child actress category because she's 22, Jennifer Lawrence is one of the youngest actors or actresses to ever win an Academy Award as a lead in a movie now that she won her Best Actress Oscar for "Silver Linings Playbook."
In the Best Supporting Actress category, three girls have actually won the award: Tatum O'Neal won for "Paper Moon" (1973) when she was ten, Anna Paquin won for "The Piano" (1993) when she was eleven, and Patty Duke won for "The Miracle Worker" (1962) when she was sixteen.
---