The Onion apologizes for offensive actress tweet
The Onion apologizes for calling 'Beasts of the Southern Wild' star Quvenzhane Wallis an offensive name on Twitter. The Onion apologizes the day after the tweet was sent out. 'It was crude and offensive,' CEO Steve Hannah wrote on Facebook.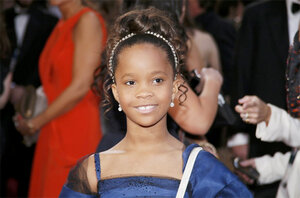 Lucy Nicholson/Reuters
The Onion is apologizing for calling the 9-year-old star of "Beasts of the Southern Wild" a vulgar and offensive name on Twitter, an attack that led to a firestorm online.
The satirical newspaper on Sunday referred to Quvenzhane Wallis with an expletive intended to denigrate women. The Onion was lambasted overnight and asked for forgiveness Monday.
"It was crude and offensive — not to mention inconsistent with The Onion's commitment to parody and satire, however biting," The Onion CEO Steve Hannah wrote on Facebook. "No person should be subjected to such a senseless, humorless comment masquerading as satire."
Hannah said the offensive tweet was taken down within an hour and the newspaper has "instituted new and tighter Twitter procedures" to ensure it will never happen again. Those responsible would be disciplined, he added.
"Miss Wallis, you are young and talented and deserve better. All of us at The Onion are deeply sorry."
A message sent to Quvenzhane's representative seeking comment wasn't immediately returned Monday. She was the youngest-ever actress nominee at the Academy Awards.
The Onion's original tweet brought some calls for the fake news organization to publicly identify the writer of the tweet, vows to refuse to retweet its material, and requests from outraged consumers to email The Onion to complain.
Oscar host Seth MacFarlane also joked about the young star during the ceremony. Some found the quip offensive, albeit not to the degree of the outrage over The Onion's tweet. MacFarlane joked that "it'll be 16 years before she's too old for" George Clooney.
---