'Reality' examines the dangers of celebrity worship
'Reality' has some loose ends, but actor Aniello Arena as protagonist Luciano is a live-wire presence.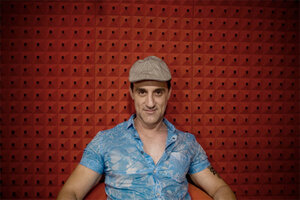 Courtesy of Oscilloscope Laboratories
The adoration of celebrity is, of course, not confined to America. Neither is the desire to become one. "Reality," the new film from Italy's Matteo Garrone, is ostensibly about a working-class fishmonger with delusions of making it big on a hit reality TV series, but it casts a wide net. It's really about the ways in which celebrity worship deranges all of us. (Like Garrone's previous movie, "Gomorrah," it won the Grand Prix at the Cannes film festival.)
Garrone doesn't make the mistake of turning his protagonist, Luciano (Aniello Arena), into a bland Everyman. He never loses his singularity. He's too avid for that. A family man with a big, buzzing circle of relatives, he lives in a rundown section of Naples and runs an illegal mail-order scheme on the side.
We first see him and his brood at a wedding where he plays a cross-dressing clown, in full greasepaint, and strikes a glancing connection with the wedding host, Enzo (Raffaele Ferrante), who made it big as a contestant on the hugely popular reality TV show "Big Brother."
Pushed by his family into trying out for the show, Luciano leaves the audition in Rome believing he's a shoo-in for a callback. He convinces everybody that he's only one phone call away from fame. He tells his wife, Maria (a marvelous Loredana Simioli), that they will be "set for life, all our problems will be solved." Maria is the only hard-line skeptic in the bunch, but she's no match for Luciano's charm offensive.
Luciano is deluding himself that his imminent "Big Brother" celebrity is his apotheosis. He believes he is anointed. When the call doesn't come, he holds out anyway. His Neapolitan neighbors want a celebrity in their midst, so they become part of Luciano's not-so-grand illusion. (A wide-eyed bartender tells Luciano he's pouring him a last drink before he becomes famous.)
---