'The Great Gatsby' is an over-the-top misfire
'The Great Gatsby,' directed by Baz Luhrmann, tries too hard to update the story and piles on the party scenes.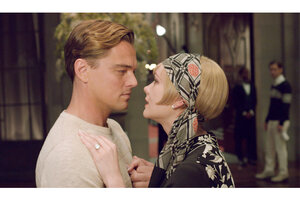 Courtesy of Warner Bros. Pictures/AP
If I were to choose the film director least temperamentally suited to adapt "The Great Gatsby," heading my list would be Baz Luhrmann, the Australian impresario who gave us the assaultive "Moulin Rouge!" and "William Shakespeare's Romeo + Juliet," which was anything but the Bard's.
F. Scott Fitzgerald's great novel has been filmed five times before, most notably (egregiously?) in 1974, starring Robert Redford as the enigmatic Jazz Age bootlegger and world-class romantic Jay Gatsby. In that performance Redford seemed to be confusing "enigmatic" with "blank."
One clear advantage to this Luhrmannized version is that, although Leonardo DiCaprio may be miscast, and although he appears at times not quite old enough to shave, at least he's not drearily enigmatic. He has his many moods, dark and ethereal and extra crispy, and, given how Gatsby is constantly reinventing himself anyway, this makes sense.
---