'The Great Gatsby' director Baz Luhrmann hopes his movie will inspire viewers to party like it's the '20s
'The Great Gatsby' 'captures summer in New York... accurately... viscerally,' the director said. 'The Great Gatsby' stars Leonardo DiCaprio as the titular character and Carey Mulligan as Daisy Buchanan.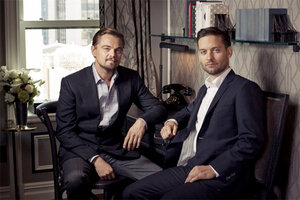 Victoria Will/Invision/AP
Film director Baz Luhrmann hopes that his film adaptation of "The Great Gatsby" will kick off a summer of extravagant Gatsby-inspired parties.
"Is there a book that captures summer in New York more accurately, more viscerally than 'The Great Gatsby'? I don't think so," Luhrmann told Reuters.
Starring Leonardo DiCaprio, and with a soundtrack produced by rapper Jay-Z, the film has struck promotional partnerships with clothing retailer Brooks Brothers, jeweler Tiffany & Co. and Moet & Chandon champagne.
"The idea is that you don't just come see the movie, but also celebrate that extraordinary book throughout the summer," the Australian director said of his version of F. Scott Fitzgerald's 1920s tale of decadence and illusion.
"There's an intoxication that (protagonist) Jay Gatsby used to draw all of New York into his glittering parties and his mysterious gardens."
The film, shot mostly in Australia, was a long time coming. Its release date was originally set for December 2012 but was pushed to May, causing speculation as to what was happening behind the scenes.
Luhrmann, who also directed the 2001 musical "Moulin Rouge," said the biggest issue was the unrelenting bad weather that kept halting production.
---