'Star Trek Into Darkness' director J.J. Abrams discusses whether he would take on a third 'Trek' and that new 'Star Wars' movie
'Star Trek Into Darkness' can be seen by 'Trek' fans and newbies, Abrams says, and the opportunity to direct the new 'Star Wars' movie makes him 'feel preposterously lucky.' 'Star Trek Into Darkness' hit theaters May 17.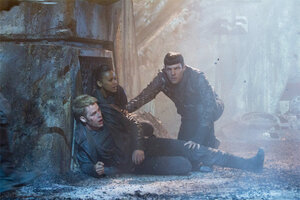 Zade Rosenthal/Paramount Pictures/AP
J.J. Abrams is master of one universe — and he's about to try conquering another.
The director who rebooted "Star Trek" for a new generation, sending the USS Enterprise out again to explore strange new worlds, has also been put at the "Star Wars" helm. Soon he'll direct a new film, the seventh, in the epic sci-fi franchise.
So while Abrams is in London to talk about his second "Trek" feature, "Star Trek Into Darkness" — releasing in U.S. theaters on May 17 — the topic inevitably drifts to a galaxy far, far away.
"I feel preposterously lucky," said Abrams, a self-declared "Star Wars" fanboy.
"I do feel at the core this incredible disbelief that I'm actually even answering questions at all about my involvement in something that until fairly recently I didn't even know was going to come back as a series. And now I get to be involved in it."
Just how involved, he says, remains to be seen.
Abrams' "Star Wars: Episode VII" is part of big plans for The Walt Disney Co., which bought George Lucas' Lucasfilm empire last year for $4.05 billion. The company is planning three sequels and two stand-alone spinoff movies focusing on characters from the "Star Wars" universe.
---