'Man of Steel' director Snyder discusses trying to ignore previous 'Superman' films and how Christopher Nolan helped him
'Man of Steel' stars Henry Cavill as Superman and Amy Adams as Lois Lane. 'Man of Steel' arrived in theaters June 14.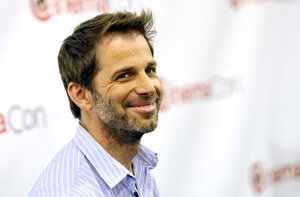 Chris Pizzello/Invision/AP
"Man of Steel," the latest iteration of the Superman series, lands on the big screen on Friday with the hopes that the dark, action-heavy film can revive the classic comic book superhero as a Hollywood franchise.
But director Zack Snyder, who is best known for 2007 action film "300" and 2009 superhero flick "Watchmen," told Reuters that it was a delicate balance staying faithful to Superman's story without retreading earlier film and television versions.
"I think a mistake would be to consciously ask, 'What mistakes have they done in the past?' That type of reactive approach – that's going to end in disaster," Snyder, 47, said.
"The way we looked at it was like, 'Let's say we just found these comic books under our bed and this character, Superman, seems pretty cool to make a movie about,'" he added.
The Superman comic, which artist Joe Shuster and writer Jerry Siegel debuted in 1938, has been brought to the big and small screen about a dozen times, most notably in the four-film series starring Christopher Reeve from 1978 to 1987.
"Man of Steel" tells the origin story of the DC Comics superhero, played by British actor Henry Cavill, setting up the film as a springboard to reboot a franchise that failed to take off in 2006 with director Bryan Singer's "Superman Returns."
Studio Warner Bros. enlisted director Christopher Nolan – whose three Batman films grossed more than $2 billion worldwide between 2005 and 2012, according to box-office tracker Boxofficemojo.com – as a producer and story writer to help shepherd the film along.
"He treated me probably how he would want to be treated," Snyder said of Nolan. "If I had a problem he was there to say, 'What's going on? What about this?', offering advice and counsel whenever I needed it."
---