Animation stretches for sequels
Just about every film studio, including that flagship of animation, Pixar, is planning sequels over the next several years. Can moviegoers still expect innovation in animated films?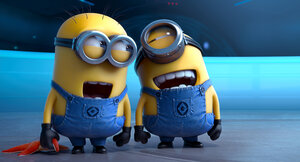 Universal Studios
It's no secret that Hollywood loves sequels. They are an easy way to capitalize on fan interest following a runaway hit but more often than not are as much fun as warmed-up leftovers. For the most part, animated features, with their lovable characters and neat story lines that tie up in feel-good endings, have avoided the realm of sequels.
But suddenly Hollywood is banking on filling movie theaters with audiences who want to see what happens next to the talking cars, monsters, and fish they have grown to love.
In the 1990s and early 2000s, animated sequels were often direct-to-video, and it wasn't until the "Shrek" and "Ice Age" franchises came along that animated sequels in theaters became a more familiar sight. But they're gaining seats at the multiplex: In 2011, six popular animated sequels, from "Kung Fu Panda 2" to "Cars 2," opened in theaters. "Monsters University," the sequel to Pixar's "Monsters, Inc.," will arrive June 21 and more are coming, including "Despicable Me 2" and "Cloudy with a Chance of Meatballs 2."
But will creativity in animated films get lost in the production rush? An important test case may be Pixar.
---