'The Attack' reaches for a rare Mideast neutral
The drama directed by Ziad Doueiri doesn't simplify the immense human complexity of the plot.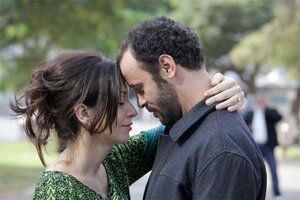 Courtesy of Cohen Media Group
As "The Attack" opens, Amin Jaafari (Ali Suliman), an Israeli-Arab surgeon practicing in Tel Aviv, is seeing off his wife, Siham (Reymond Amsellem), as she departs by bus for a trip to Nazareth. They have been married 15 years and it's clear that their bond is close.
Soon after, he accepts an award – the first given to an Arab in 41 years, he gently adds – at a convocation of Israeli surgeons. When, the next day, a bomb goes off nearby, the shock is compounded by the fact that, for these doctors, the ensuing chaos has become routine. The victims of the terrorist attack arrive at the hospital in ambulances. Seventeen people, it turns out, including nearly a dozen children, have been killed.
For Amin, the real shocker is that one of the victims, whom he is called in to identify, is his wife, who is verified by Israeli detectives as having been the suicide bomber in the attack. The rest of the film is taken up with Amin's attempts to answer the question: How can this be?
Dismissive at first of the accusation, Amin inexorably traces his wife's double life as his incomprehension morphs into anguish. He discovers that Siham never went to Nazareth. He travels to the Palestinian territories and visits Jenin, the site where dozens of civilians were killed by Israel Defense Forces. He seeks out Siham's religious mentors and discovers that, in their eyes, she is a martyr.
[Editor's note: The original version of this story misstated the number of Palestinians killed in Jenin.]
---