Comic-Con 2013 includes exhibits on 'Walking Dead' and 'Ender's Game'
Comic-Con 2013 will include peeks at movies including the new 'Captain America' film and a 'Godzilla' remake. Comic-Con 2013 is being held in San Diego.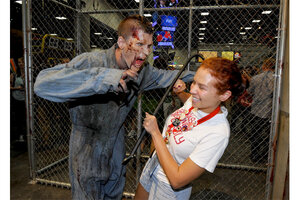 Denis Poroy/Invision/AP
The zombies, superheroes, space aliens, pirates and time travelers taking over the streets of downtown San Diego can only mean one thing: Comic-Con is here!
The 44th annual pop-culture extravaganza kicked off Wednesday with preview night, which grants early access to the show floor to attendees with four-day passes.
Lines snaked around both outside and inside the San Diego Convention Center with guests queuing up to collect freebies and have first crack at such limited-edition collectibles as a 2-foot-tall "Transformers" action figure and a Barbie doll depicting Julie Newmar as Catwoman.
"It's totally worth it," said 22-year-old fan James Chen, who sported a pink "Dragon Ball Z" headset that he picked up on the show floor. "I just bought this scouter, and I've had 10 people ask me where I got it. That doesn't happen anywhere else in the world."
Some fans began camping out on the grass near the convention center with hopes of being the first in line for Thursday presentations featuring the stars of TV shows like "Dexter" and films such as "Divergent."
Inside on the show floor, attendees posed for photos with zombies on a prison set from "The Walking Dead" and amid a jungle landscape with the alien from "Predator." They also lined up to play the upcoming Xbox One and PlayStation 4 game consoles and gawk at such costumes as Tom Cruise's mechanized armor from "Edge of Tomorrow" and Superman costumes from various movies and TV shows.
---