'Red 2' vs. 'R.I.P.D.': Which will win the weekend?
'Red 2' and 'R.I.P.D.' seem aimed towards a similar audience. What will happen when they face off at the box office?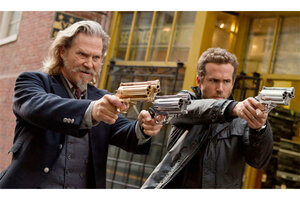 Scott Garfield/Universal Pictures/AP
Scheduling the release of a summer movie isn't exactly a science. It clearly isn't an art, either. It's more akin to a contact sport: Seize the advantageous position, sustain as little damage as possible, and score.
All of which makes this weekend's opening of both "Red 2" and "R.I.P.D." a little like sacking your own quarterback. Both films are action-thrillers. Both are about over-age law enforcers (in "R.I.P.D.," some are so old, they're dead). And both make a virtue of their, shall we say, mature stars.
Those stars include Bruce Willis (58), Anthony Hopkins (75), John Malkovich (59) and Helen Mirren (67) in "Red 2" and Jeff Bridges (63) and Kevin Bacon (55) in "R.I.P.D.," which, by the way, stands for "Rest in Peace Department."
It may not make a huge difference at the box office, but both films also feature the less-than-prolific Mary-Louise Parker, who is best known for her work in cable TV's "Weeds."
Add to all this the fact that Robert Schwentke, the director of Universal's "R.I.P.D.," had directed the original "Red" of 2010 from Summit Entertainment and for whatever reason (Schwentke didn't want to talk about it) lost the sequel to director Dean Parisot.
True, "R.I.P.D." pairs Bridges with 36-year-old former Sexiest Man Alive Ryan Reynolds, but as summer films go, the movies share notable audience overlap – and on two fronts, says box office analyst Paul Dergarabedian.
"These films skew older due to the presence of Jeff Bridges in "R.I.P.D." and the older cast of "Red 2," he said. "And the bigger similarity is that they are both action crime comedies."
Assuming there's no ill will involved, a lot of coincidences are in play here, said distribution consultant Richard Abramowitz, who teaches film production at New York University and runs the film company Abramorama. "It seems like too big a mistake to be a mistake."
---