Maleficent Angelina Jolie: The star talks her new film at Disney's D23 Expo
'Maleficent' will star Angelina Jolie as the 'Sleeping Beauty' villain. 'Since I was a little girl, Maleficent was always my favorite,' Angelina Jolie told the crowd at Disney's D23 Expo, where they promoted the company's coming projects.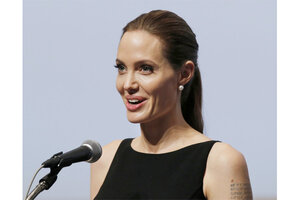 Koji Sasahara/AP
Angelina Jolie cast a spell on the crowd at the D23 Expo.
The star of the upcoming film "Maleficent" appeared on stage at the Disney extravaganza for a Saturday presentation promoting the company's upcoming assortment of live-action films.
"Since I was a little girl, Maleficent was always my favorite," Jolie told the crowd of 4,000 fans about her role as a real-life rendition of the "Sleeping Beauty" villainess. "I was terrified of her, but I was so drawn to her. I wanted to know more about her."
Jolie said her daughter, Vivienne, who turned 5 years old last month, was cast in the film as a young version of Princess Aurora, mostly because she was the only child who wasn't afraid of Jolie in her horned attire on the set.
"One little kid even said, 'Mommy, please tell the mean witch to stop talking to me,'" said Jolie.
Other stars that appeared at California's Anaheim Convention Center included a few allies of "Marvel's The Avengers."
Tom Hiddleston, Natalie Portman and Anthony Hopkins from "Thor: The Dark World" and Chris Evans, Sebastian Stan and Anthony Mackie from "Captain America: The Winter Soldier" were on hand to tout their upcoming sequels.
---