Kate Winslet's film 'Divergent' joins rush of dystopian Y.A. film adaptations
Kate Winslet and Shailene Woodley star in 'Divergent,' a movie based on Veronica Roth's dystopian young adult novel. Kate Winslet and Shailene Woodley's movie is one of several young adult films that depict a dark future.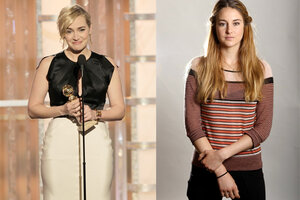 L: Paul Drinkwater/NBC/AP R: Matt Sayles/Invision/AP
Parents of morose teenagers be warned: the next big trend in films for young adults could make the mood at home even darker.
Vampires, werewolves and boy wizards are out; dystopia is in. Having seen the popularity of "The Hunger Games," movie studios are rolling out films that explore darker themes.
Summit Entertainment's "Divergent" and "Ender's Game" and Sony Pictures' "The Mortal Instruments: City of Bones" are all aimed at the lucrative audience of young adults.
The films were front and center at the recent Comic-Con convention. The industry's move to dystopia comes after the "Harry Potter" and "Twilight" franchises both ended in 2011.
The five "Twilight" films, based on novels by Stephenie Meyer about a human girl entangled in a love triangle with a vampire and a werewolf, grossed more than $3 billion at the worldwide box office and set studios on the hunt for the next young adult franchise to capture the audience.
What they found was significantly darker in nature, exploring themes far beyond a teenage love story and wizardry.
Last year's Lions Gate film "The Hunger Games," the first film based on author Suzanne Collins' trilogy, features a post-apocalypse society in which a totalitarian government holds an annual "Hunger Games," a televised survival game where 24 children must fight to the death until only one remains.
---