Paula Patton's 'Baggage Claim,' 'Ender's Game' – what will succeed at the box office this fall?
Paula Patton's film 'Baggage Claim,' the next 'Hunger Games' movie, and '47 Ronin' will all be released this fall. Will Paula Patton's movie, the new 'Hobbit' movie, and others win at the box office?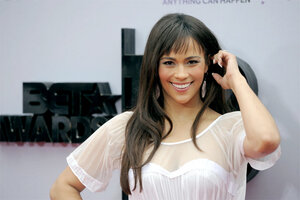 Chris Pizzello/Invision/AP
With the summer movie season winding down and the Toronto Film Festival around the corner, Hollywood is looking ahead to fall.
After an exceptionally packed summer of tentpole movies, the studios are once again turning their attention to more thoughtful fare.
Sure, there's still Thor and the next "Hunger Games" and "Hobbit" movies, but the season is also packed with movies such as Martin Scorsese's "The Wolf of Wall Street," Spike Jonze's "Her" and Alexander Payne's "Nebraska." Alfonso Cuaron's "Gravity" and George Clooney's "The Monuments Men" are also on the way, along with a surprisingly large number of movies by black filmmakers.
Here are the most pressing box office questions for the final four months of the year:
1. Will audiences return Hollywood's belated embrace of black filmmakers? At least 10 films starring black actors and actresses are opening in the second half of the year, several of them written or directed by black filmmakers as well.
Ryan Coogler and Lee Daniels kicked things off this summer with "Fruitvale Station" and "The Butler," both flagged as early awards contenders, while popular comedian Kevin Hart weighed in with his stand-up special "Let Me Explain."
Coming this fall: two films about South African hero Nelson Mandela ("Winnie Mandela" and "Mandela: Long Walk to Freedom"), one about slavery ("12 Years a Slave"), another about the Beltway Snipers ("Blue Caprice"), the requisite Tyler Perry film ("A Madea Christmas") and several others, including David E. Talbert's "Baggage Claim" and Kasi Lemmons' "Black Nativity."
Whether this is one-year blip or sustainable depends on how many people go to see these movies.
---