'All Is Lost' charts the saga of a stoic survivor
'All Is Lost' stars Robert Redford in a nearly wordless role as a man adrift on the Indian Ocean.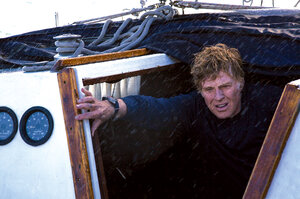 Courtesy of Daniel Daza/Roadside Attractions
What would you do if you were alone and adrift in the Indian Ocean in a 39-foot yacht with a breached hull and no help in sight? If you were the unnamed character played by Robert Redford in "All Is Lost," you would be very Hemingwayesque. During the film's eight-day span you would utter not a single word save for a couple of well-known expletives. Now that's what I call grace under pressure.
"All Is Lost" is written and directed by J.C. Chandor, whose debut feature, "Margin Call," was as talky as this film is not. Redford's character is referred to only as Our Man, which is a clue to Chandor's mythic pretensions. In the movies, if you want to come across as mythic, it helps to be mute. This is a very American take on heroism, and not an especially realistic one. (Or maybe it's British – Keep Calm and Sail On.) Imagine if Al Pacino were playing the lead here. He'd never shut up. (It would make a great "Saturday Night Live" sketch.)
If one buys into the whole grace under pressure thing, "All Is Lost" – the title is its own spoiler alert – is first-rate. The conception leaves itself open to satire, of course: I half expected Our Man to collide with the kid from "Life of Pi," or Wilson the soccer ball from "Cast Away," or be rescued by Tom Hanks from "Captain Phillips." But of course, this is not how you're supposed to respond to the film. In any case, adrift-in-the-ocean movies now qualify as a genre.
The problems for Our Man begin when he's jolted awake by a collision with a cargo container left floating in the high seas. (A Chinese shipping container no less. Social commentary?) He methodically goes about patching the breach and bailing water from the boat. His radio equipment has been rendered unworkable.
---